award is presented by a Chapter, a State Society, or the National Society to ROTC or JROTC cadets who are selected for having a high degree of merit with respect to leadership qualities, military bearing and general excellence. The recipients are selected by the Commanding Officer of the ROTC or JROTC unit, who should be given full latitude in making the selection.
The SAR ROTC Medal is approved by the United States Army, the United States Navy, the United States Marine Corps, and the United States Air Force. Each service has notified its ROTC and JROTC units of this approval and has authorized presentation to its cadets or midshipmen. For information regarding support for the U.S. Navy Sea Cadet Corps (NSCC) please select this link

Sea Cadet Information.
For ROTC or JROTC units with fewer than 500 cadets or midshipmen one medal will be awarded each year. For larger units, one medal may be presented for each 500 students enrolled in the unit. In cases where a school has more than one ROTC or JROTC unit, each unit is counted separately. It is desirable to have a medal and ribbon bar on display in a trophy case at each school where it is presented. This will serve as an incentive to the students and publicize the SAR ROTC program as well.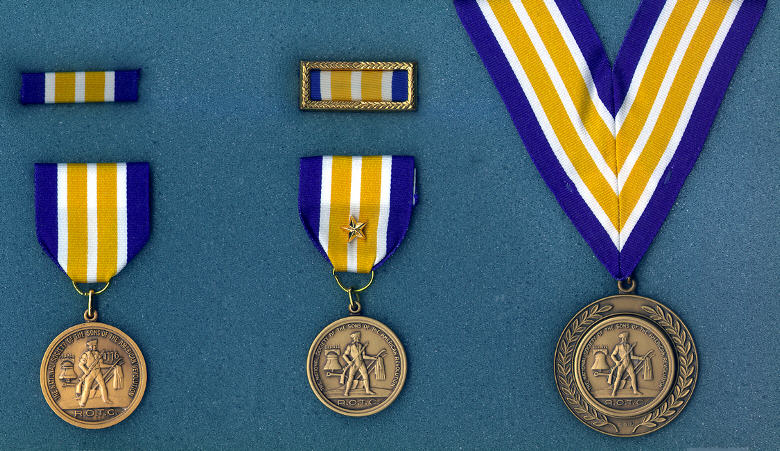 JROTC Medals / Ribbons
The ROTC medal is struck on a circular planchet. The obverse shows a Minuteman holding a rifle and standing next to a plow, with the Liberty Bell in the background. It is inscribed with the letters "ROTC". The reverse is inscribed "Awarded for Leadership, Soldierly Bearing and Excellence to _____________." The medal is suspended from a ribbon of the SAR Colors. A ribbon bar in the SAR colors is included and a certificate is available as well.

The Silver ROTC Medal is presented only to students in a college or university ROTC unit. No recipient may receive it more than once. No miniature medal is available. The medal was authorized in 1933.

The Bronze JROTC Medal was authorized in 1965, and is presented only to students in secondary school JROTC. No recipient may receive it more than once. No miniature medal is available.
---



For further information about the program in the Oklahoma Society, please contact:

Oklahoma State JROTC Chairman 1218 Richmond Road, Edmond, OK 73034

Click this link for forms and information online at sar.org: https://sar.org/rotc-jrotc-recognition-program