OKSSAR License Plate
---
January 16, 2019: The latest update President Painter Fellow Compatriots and Friends! The The Oklahoma SAR special tag is ready Click here to see a picture.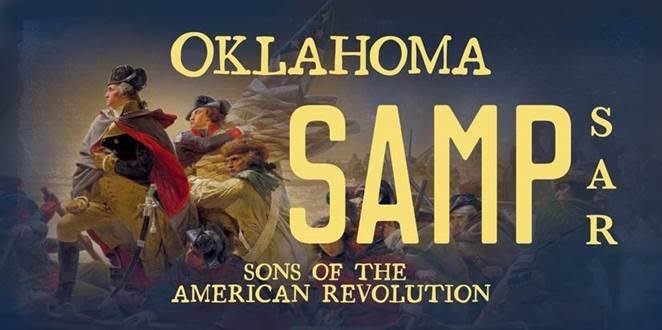 Unbeknownst to us, the Oklahoma Department of Motor Vehicles had placed the SAR special tag application online even though the final plate design has yet to be approved. Because of this oversight on the part of the DMV, it has been decided that AS SOON AS POSSIBLE, everyone who wants SAR special tags (or pledged to purchase) needs to download the form, fill it out and mail it to the DMV directly with the payment of $19.00 per vehicle ($15.00 tag fee as quoted, plus a $4.00 mail-in processing fee.) If you want more than one special tag, you must fill out a separate application for each tag.
Go to the following web address or copy and paste it in your browser search box: https://www.ok.gov/tax/Individuals/Motor_Vehicle/Forms_&_Publications/Specialty_Plate_Forms/2019_Special_License_Plates/ next, click on the link at the bottom of the page where it says "Form 708-E" (click to download). For your convenience, the special tag application is here. The Oklahoma SAR Application. It is a 2 page form. Fill out the first page completely. You will need to refer to your car title and decal information to complete the first page. If you do not want the tag personalized, there is no need to do anything on the second page. If you want the tag personalized, the second page must also be completed.
IMPORTANT: Although the application form has SIX alpha/numeric spaces for a personalized tag number, our tag will have ONLY FOUR alpha/numerics, so please use only the first four space boxes if you elect a personalized tag. The last two boxes should remain blank. Four boxes must contain a letter or a number. No motorcycle tags are available. Additionally, so that we may keep a record of which SAR members and friends have submitted applications, please email me to let me know that you have submitted your application/s and for how many tags. We need at least 100 paid applications in order to have the tag issued.
Fellow Compatriots and Friends, after a year of hard work by Oklahoma SAR Special Tag Committee Chairman Peter Dobelbower, the moment of our action has come! Please fulfill your committment now and order your tags! Encourage your fellow compatriots, family members and friends to do the same. Even if they decide to not renew their tag, $19.00 will help secure our minimum number required and provide great public awarness of SAR for years to come!
Fraternally,
Ron Painter
State President
Oklahoma SAR

August 24, 2018: The latest update President Painter has received from Oklahoma SAR License Plate Project Committee Chairman Peter Dobelbower on August 1, 2018 is as follows:
The artwork will now be sent to the department that prints the tags and they will create a tag based upon the files I delivered them. This tag will then be sent back to the Department of Special Tags, who will first send it to Law Enforcement to make certain it's readable, then send it to me for approval. I am told that Law Enforcement approval has always been a "rubber-stamp." If, after I see the mock-up, I approve it, he applications will then go on line, probably in the month of November. If I don't approve it, I will then continue working with them until they get it right. Either way, applications will still be available in November.
3. Once everything is approved, and applications go on line, we should put out an email for everyone, attaching the application or advising them to go online and print them out. This email should direct EVERYONE to send the completed applications with check to my attention by a certain date. Once I have the required 100 pre-paid applications, I will hand deliver them to the Department of Motor Vehicles. At this point, we will then send out an email advising that the process is complete and that any additional applications should then go through the Department of Motor vehicles as instructed on their web page. We will have 180 days from sometime in November to complete this process. As we get closer, I will be able to nail this date down.
4. I am supposed to follow up with them at the end of September to see where they are in the process. You will hear from me after this.
If anyone needs to modify a plate order, or if you are receiving this information for the first time (new members) and are interested in the Sons of the American Revolution Special Oklahoma license plate, please email .