20 October 2018 The Oklahoma SAR Board of Managers meeting will be held at 9:00 A.M. on Saturday October 20th at the New Covenant Christian Church located at 12000 N. Rockwell Avenue, Oklahoma City, OK.
The Board of Managers members are: the State President [votes only in a tie], the National Trustee, the State Secretary-Treasurer and the five Chapter Presidents. (Eight total positions.)
All state officers, chapter presidents and committee chairmen are requested to submit status reports by email to State Secretary-Treasurer Phil Hunt (philhuntsar@gmail.com) no later than October 1, 2018.
August 24, 2018 The latest update President Painter has received from Oklahoma SAR License Plate Project Committee Chairman Peter Dobelbower on August 1, 2018 is as follows:
1.

The SAR special tag has been approved. Click here to see a picture.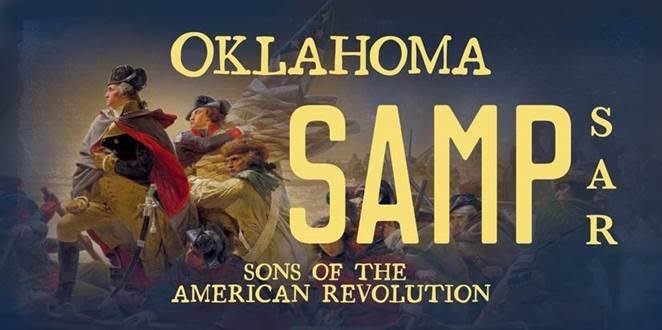 2. The artwork will now be sent to the department that prints the tags and they will create a tag based upon the files I delivered them. This tag will then be sent back to the Department of Special Tags, who will first send it to Law Enforcement to make certain it's readable, then send it to me for approval. I am told that Law Enforcement approval has always been a "rubber-stamp." If, after I see the mock-up, I approve it, he applications will then go on line, probably in the month of November. If I don't approve it, I will then continue working with them until they get it right. Either way, applications will still be available in November.
3. Once everything is approved, and applications go on line, we should put out an email for everyone, attaching the application or advising them to go online and print them out. This email should direct EVERYONE to send the completed applications with check to my attention by a certain date. Once I have the required 100 pre-paid applications, I will hand deliver them to the Department of Motor Vehicles. At this point, we will then send out an email advising that the process is complete and that any additional applications should then go through the Department of Motor vehicles as instructed on their web page. We will have 180 days from sometime in November to complete this process. As we get closer, I will be able to nail this date down.
4. I am supposed to follow up with them at the end of September to see where they are in the process. You will hear from me after this.
If anyone needs to modify a plate order, or if you are receiving this information for the first time (new members) and are interested in the Sons of the American Revolution Special Oklahoma license plate, please email .